Agalloch
Data In Italia
News del 20/09/2011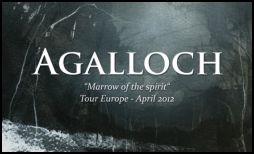 La release di Marrow Of The Spirit ha definitivamente consacrato gli AGALLOCH a livello mondiale e dopo il sold out del 2009, finalmente e' giunta l'ora per la band di Portland di calcare nuovamente un palco nel nostro paese.
Gli AGALLOCH torneranno in Italia domenica 15 Aprile 2012 al Carlito's Way di Retorbido (PV), per quello che sara' un evento unico.
Gli special guest dell'evento saranno annunciati prossimamente.
Ecco i dettagli:
AGALLOCH + special guests
Domenica 15 Aprile 2012
Carlito's Way - Retorbido (PV)
I biglietti saranno disponibili esclusivamente su www.eyecarver.com a partire da giovedi' 22 Settembre al costo di 25,00Euro.
Compreso nel prezzo ci sara' un poster dell'evento in formato A2 che verra' consegnato all'ingresso.
Solo 400 biglietti disponibili.
Per info e prevendita:
www.eyecarver.com
eyecarver@gmail.com
[Comunicato Stampa]