A Storm Of Light
Teaser Del Nuovo Disco
News del 14/07/2013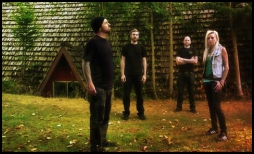 A Storm Of Light annunciano il nuovo album, successore di "As The Valley Of Death Becomes Us, Our Silver Memories Fade" del 2011. Il disco si intitolera' Nations To Flames e conterra' 11 brani e arrivera' in autunno.
Il disco e' stato registrato da Travis Kammeyer (OCOAI, Generation Of Vipers) ai Fahrenheit Studios in Johnson City, Tennessee, mixato da Matt Bayles (Isis, Soundgarden, Pearl Jam, Botch, Mastodon) ai Red Room Recording in Seattle, Washington e masterizzato da Brad Boatright (Sleep, From Ashes Rise, Nails) ai Audiosiege in Portland, Oregon.
Tra gli ospiti troviamo Kim Thayil dei Soundgarden e Will Lindsay dei Indian/Nachtmystium.
Il disco sara' pubblicato da Southern Lord il 30 Settembre.
Di seguito potete vedere e ascoltare una anticipazione: