Don Caballero
Dettagli Su "World Class Listening Problem"
News del 24/02/2006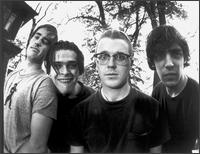 Il tanto atteso come back dei Don Caballero (o quello che ne rimane, ovvero Damon Che) si intitolerà "World Class Listening Problem" e uscirà. come già annunciato, su Relapse.
L'uscita è prevista per il 16 Maggio e la tracklist sarà la seguente:
01. Mmmmm Acting. I Love Me Some Good Acting
02. Sure We Had Knives Around
03. And and and, He Lowered the Twin Down
04. I Agree…….No!.......I Disagree
05. Palm Trees In the Fecking Bahamas
06. World Class Listening Problem
07. Railroad Cancellation
08. Theme From Bricktop Clowns
09. Savage Composition
10. I'm Goofballs for Bozzo Jazz
Ovviamente, dopo la pubblicazione è previsto un tour mondiale.
L'album è stato registrato da Al Sutton ai Rustbelt Studios e masterizzato da Alan Douches ai West West Side Studios.
Ricordiamo l'attuale formazione dei Don Caballero: Damon Che, alla batteria, il bassista Jason Jouver, Gene Doyle e Jeff Ellsworth alle chitarre.
[Dale P.]