Don Caballero
Firmano Per La Relapse!
News del 13/12/2005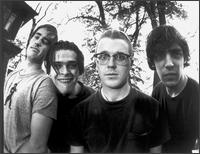 La chiusura di un cerchio. Don Caballero, una delle band pių influenti degli ultimi anni, ha firmato per Relapse mitica label di metal-grind-evoluto.
Damon Che, Jeff Ellsworth, Jason Jouver (questi ultimi provenienti dai Creta Bourzia), Gene Doyle stanno lavorando al nuovo album: il quinto.
La band si trova ai Rustbelt Studios di Detroit con Al Sutton a lavorare sul nuovo materiale. Alcuni brani in lavorazione sono "World Class Listening Problem", "And And And, He Lowered the Twin Down", "Palm Trees in the F**king Bahamas", e "Theme From Bricktop Clowns".
[Dale P.]
social network:
Condividi