Eyehategod
La Tracklist Del Tributo
News del 30/04/2006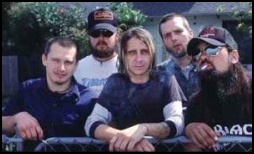 Come precedentemente annunciato, Emetic Records sta preparando un disco tributo ai seminali Eyehategod. A partecipare sono stati chiamati alcuni dei nomi del giro stoner e post-hc.
Ecco la tracklist con i partecipanti:
Brutal Truth - "Sister Fucker (Part 1 And 2)"
Watch Them Die - "Serving Time In The Middle Of Nowhere"
Buried At Sea - "White Nigger" (Feat. Kevin Sharp)
Byzantine - "Shop Lift"
Dead Bird - "Children Of God"
Alabama Thunderpussy - "God Song"
Ichabod - "Jackass In The Will Of God"
Minsk - "Ruptured Heart Theory"
Total Fucking Destruction - "Kill Your Boss"
Mouth Of The Architect - "Story Of The Eye"
Swarm Of The Lotus - "Blood Money"
Raging Speedhorn - "30$ Bag"
Sow Belly - "99 Miles Of Bad Road"
Ozenza - "Revelation/Revolution"
Triac - "My Name Is God"
Unearthly Trance - "Shinobi"
Halo Of Locusts - "Dixie Whiskey"
If He Dies, He Dies - "Age Of Bootcamp"
The Esoteric - "Crimes Against Skin"
Lair Of The Minotaur - TBA
Century Media, invece, ristamperÓ "In The Name Of Suffering" e "Take As Needed For Pain. Non sono per˛ previste bonus track.
[Dale P.]