---
Lightning Bolt
Early Delights A Novembre
News del 15/08/2009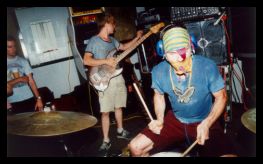 Pur non avendo mai interrotto l'attivitÓ live il duo di Providence mancava nei negozi di dischi dai tempi di Hypermagic Mountain (2005). E' quindi una lieta notizia sapere che il nuovo disco uscirÓ il 13 Novembre su Load Records in versione Mp3, CD e triplo vinile.
Di seguito la tracklist:
01 Sound Guardians
02 Nation of Boar
03 Colossus
04 The Sublime Freak
05 Flooded Chamber
06 Funny Farm
07 Rain on Lake I'm Swimming In
08 S.O.S.
09 Transmissionary
[Dale P.]
RECENSIONI