Mastodon
Tracklist e Ospiti
News del 09/04/2006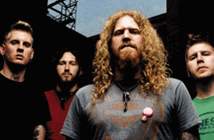 La band sta ultimando i lavori per "Blood Mountain" l'attesissimo terzo album e il primo ad uscire su major.
Il disco Ŕ stato prodotto da Matt Bayles (Norma Jean, Isis) e sarÓ mixato nelle prossime settimane da Rich Costey (Audioslave, My Chemical Romance).
Nel disco appariranno come ospiti Cedric Bixler Zavalain (Mars Volta) in "The Siberian Divide" e Scott Kelly (Neurosis) e Ikey Owens (Mars Volta) in brani ancora non specificati.
E ora, finalmente, la tracklist:
"Circle Of Cysquatch"
"Hunters Of The Sky"
"The Sleeping Giant"
"Bladecatcher"
"The Colony Of Birchmen"
"Pendulous Skin"
"The Siberian Divide"
"Capillarian Crest"
"Hand Of Stone"
"Crystal Skull"
"The Wolf Is Loose"
"This Mortal Soil"
[Dale P.]