Municipal Waste
Annullano il Tour Europeo
News del 22/07/2010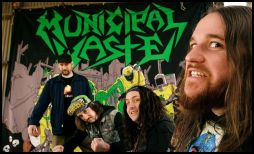 I revivalisti del Thrash americano hanno annunciato su Twitter un laconico messaggio di annullamento di tutto il tour europeo a causa di gravi problemi famigliari.
Annullata quindi anche la data italiana all'Arci Q di Fidenza il 30 Luglio.
Di seguito il messaggio della band: "Sorry to cancel Europe. We'll make it up to you. Family first!"
[Dale P.]
social network:
Condividi