Audioslave
Live Cover di RATM e Soundgarden!
News del 15/04/2005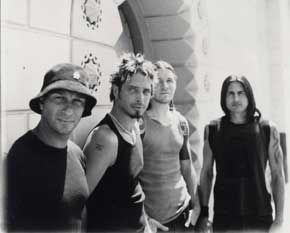 Quello che nessuno voleva sentire è successo: gli Audioslave, nel loro debutto dal vivo di quest'anno, hanno proposto brani delle loro vecchie band.
I Rage Against The Machine sono stati omaggiati con "Sleep Now in the Fire" e "Killing in the Name" mentre i Soundgarden con "Spoonman", "Outshined" e "Black Hole Sun".
Il fattaccio si è svolto ieri sera a Las Vegas e la band aveva già preparato i fan al peggio facendo dichiarazioni che lasciavano presagire la loro volontà di suonare le canzoni dei vecchi gruppi.
Lasciamo ad ognuno le proprie idee ma a noi ci sembra che gli Audioslave stiano facendo di tutto per la promozione del nuovo disco, dichiarando che sarà un grandissimo album rock (e poi fanno circolare in rete una ballatona che imbarazzerebbe i Nickelback) e che dobbiamo aspettarci grandi cose.
Se Chris ha tanta nostalgia dei Soundgarden che riformi la band originaria. Ma non credo che gli altri sarebbero d'accordo: Cornell non è più quello di "Outshined" e se ne sono accorti tutti tranne che lui...
Ecco la scaletta di ieri sera:
Set it Off
Exploder
Your Time Has Come
Like a Stone
Spoonman
Doesn't Remind Me
Gasoline
Out of Exile
Be Yourself
Bulls on Parade/Sleep Now in the Fire
Outshined
Shadow on the Sun
Bis
Black Hole Sun
I am the Highway
Show Me How to Live
Killing in the Name
Cochise