Pelican
A Maggio Il Nuovo Album
News del 10/12/2006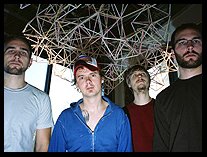 La band di Chicago entrerÓ nei prossimi giorni ai Electrical Audio Studios con Andrew Schneider, giÓ al lavoro con "Hell Songs" dei Daughters, "Perfect Pitch Black" dei Cave In e "Subject to Change Without Notice" dei Keelhaul.
Pelican hanno giÓ tastato dal vivo alcuni dei nuovi brani, che vengono descritti pi¨ heavy rispetto alla vecchia produzione. Tra questi "City of Echoes", "Bliss in Concrete", "Dead Between the Walls", e "Spaceship Broken - Parts Needed".
Ovviamente per la pubblicazione dell'album, prevista per Maggio su Hydra Head, la band affronterÓ un tour mondiale. Fra le date giÓ confermate segnaliamo la partecipazione al RoadBurn Festival in Olanda con Melvins, Neurosis, Blue Cheer, OM, Red Sparowes e al South By Southwest Music Festival di Austin, Texas.
[Dale P.]