Queens Of The Stone Age
Nuovo Album e Ristampa di Rated R
News del 07/07/2010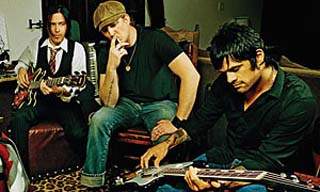 Pur essendo impegnatissimo con i Them Crooked Vultures Josh Homme ha in serbo parecchie novita' per i suoi fan. A partire dall'attesissimo successore del mediocre "Era Vulgaris" : la band infatti entrera' in studio appena terminato il tour dei TCV a fine Agosto.
Ne sapremo quindi di piu' nei prossimi mesi. Ma gia' da adesso potremo fare il countdown per il decennale di Rated R: e' prevista infatti la pubblicazione di una versione "estesa" del secondo disco dei Queens Of The Stone Age. Come bonus track troveranno spazio brani live e b-side dei singoli tratti dall'album (vedi recensioni) comprensivi di cover.
Per i fan delle Desert Sessions e' prevista l'uscita di un box su Rekords Rekords, etichetta gestita da Josh Homme.
A presto altri dettagli!
[Dale P.]
social network:
Condividi