Swans
Dopo 14 Anni Il Nuovo Album
News del 09/07/2010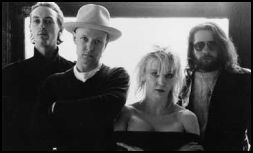 Il 21 Settembre i fan degli Swans potranno ascoltare il successore di "Soundtracks for the Blind" uscito nell'ormai remoto 1997.
Dopo aver rimesso in piedi la band assemblando vecchie glorie "originali" a collaboratori dei Angels Of Light di Gira per affrontare un tour mondiale e' di questi giorni l'annuncio della pubblicazione di un nuovo disco a nome Swans intitolato "My Father Will Guide Me Up A Rope To The Sky".
L'album sara' pubblicato il 21 Settembre su Young God e vedra' come ospiti Devendra Banhart e Grassopher dei Mercury Rev.
La band sara' in Italia a Dicembre per tre date: Torino, Bologna, Roma.
Di seguito la tracklist dell'album:
01 No Words/No Thoughts
02 Reeling the Liars In
03 Jim
04 My Birth
05 You Fucking People Make Me Sick
06 Inside Madeline
07 Eden Prison
08 Little Mouth
[Dale P.]