Soundgarden
Clamorosa Reunion Con Tad Doyle
News del 26/03/2009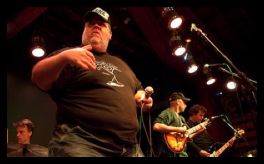 Non c'era Chris Cornell, impegnato con Timbaland con la promozione del nuovo discutibile disco "Scream", ma Kim Thayl, Matt Cameron e Ben Shepherd si sono ritrovati sul palco a suonare brani dei Soundgarden con il mitico Tad Doyle dei Tad. "Nothing To Say", "Spoonman", e "Hunted Down" sono state eseguite nella Tom Morello's Justice Tour Night di Seattle.
Il tour è organizzato dall'ex Rage Against The Machine (e curiosamente ex compagno di Cornell negli Audioslave) e serve per testimoniare la rabbia contro i prezzi dei biglietti, evidentemente troppo cari rispetto al reale guadagno dell'artista.
Oltre ai "TadGarden" sul palco si sono visti Mark Arm (Mudhoney), Wayne Kramer (Mc5) e Steve Earle.
Di seguito qualche video della serata:
[Dale P.]
social network:
Condividi