Weedeater
Nuovo videoclip
News del 13/07/2011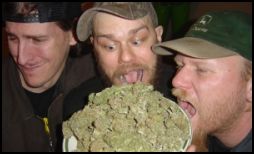 Weedeater hanno pubblicato un nuovo video, il primo tratto dal disco Jason...The Dragon. La canzone scelta e' Mancoon/Turkey Warlock.
Nel mentre vi segnaliamo che Relapse pubblichera' la prossima settimana l'esordio dei HAil! Hornet, composti da Dixie Dave (Weedeater), Erik Larson (Parasytic, The Might Could), Vince Burke (Beaten Back to Pure) e T-Roy Medlin (Sourvein).
Di seguito il video di Mancoon/Turkey Warlock (se non e' disponibile cliccate nel link sotto al video per vederlo direttamente da Vimeo):
Scion A/V Presents: Weedeater - Mancoon...Turkey Warlock from Scion A/V on Vimeo.
[Dale P.]
social network:
Condividi