Clutch
Ristampa In Arrivo
News del 24/03/2009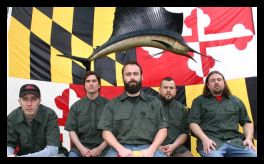 La nuova versione di "Slow Hole To China: Rare And Re-Released2" sarà nei negozi il 28 Aprile tramite Weathermaker Music Records, l'etichetta della band. La ristampa conterrà tre brani in più rispetto alla versione originale.
Questa la tracklist:

01 - "King Of Arizona"
02 - "Slow Hole To China"
03 - "Nickel Dime"
04 - "Sea Of Destruction"
05 - "Oregon"
06 - "Easy Breeze"
07 - "Hale Bopp Blues"
08 - "Four Lords"
09 - "Rising Son"
10 - "Guild of Mute Assassins"
11 - "Willie Nelson"
12 - "Equinox" (John Coltrane cover)
13 - "Hoodoo Operator"
14 - "Day Of The Jackalope"
15 - "Ship Of Gold (West Virginia)"

La band entrerà in studio il 20 Marzo con il produttore J Robbins per la registrazione del nuovo album previsto per il 30 Giugno.
I Clutch affronteranno un tour americano in compagnia di Wino e di Maylene And The Sons Of Disaster, mentre è ancora da annunciare il tour europeo in festival e come headliner.
[Dale P.]