Neurosis
Critici Contro Jello Biafra
News del 16/10/2010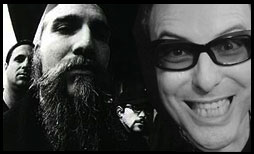 Se ben ricordate, nei primi anni 90 i Neurosis pubblicarono due dischi per la Alternative Tentacles di Jello Biafra. Di recente la band ha ristampato quei dischi (Soul At Zero, Enemy Of The Sun) non lesinando parole critiche nei confronti di Jello Biafra, sempre piu' perso nel mare di contraddizioni che contraddistingue il personaggio.
"Alternative Tentacles ci ha bidonato. Ci hanno accusato di ogni genere di cose, e di essere avidi. Ma era un affare da 3000$ e una questione di principio, quando loro di principi non ne hanno. Eravamo onorati di essere stati contattati dall'etichetta per far uscire i nostri dischi, ma ora non piu'."
La band, nello specifico Scott Kelly, incalza "Chi vive in una bella casa in collina? Lui. Chi ha un lavoro giornaliero? Io. Chi vive in un camper nei boschi? Io."
Scott solidarizza inoltre con gli ex Dead Kennedys che hanno citato in tribunale Jello Biafra.
[Dale P.]