---
Primus
Due Uscite In Arrivo
News del 29/08/2006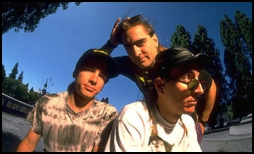 Il 17 Ottobre verranno pubblicato ben due titoli a nome Primus.
Il primo, "They Can't All Be Zingers: The Best Of Primus" sarÓ, come suggerisce il titolo, un greatest hits e sarÓ pubblicato da Interscope. Il secondo, "Blame It On The Fish" Ŕ l'ennesimo DVD della band.
Ancora nessun dettaglio preciso Ŕ stato rivelato.
[Dale P.]
RECENSIONI
Primus
Animals Should Not Try To Act Like People

Primus
Green Naugahyde

---
LIVE REPORTS