Alice In Chains
Concerti Estivi in Europa
News del 22/02/2006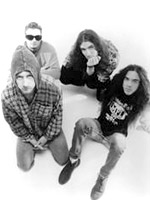 I riuniti Alice In Chains suoneranno quest'estate al Nova Rock Festival in Austria.
La notizia non Ŕ ancora ufficiale ma sembra certa al 99%. La band suonerebbe quindi con Metallica e Guns'n Roses.
Non Ŕ ancora chiaro chi prenderÓ il posto di Layne Staley, morto nel 2002 di overdose. Recentemente, per˛, la band ha suonato con il cantante dei Come With The Fall William DuVall in un recente tributo alle Heart.
[Dale P.]