Nick Cave
Doppio DVD Live e Dettagli Su Grinderman
News del 03/01/2007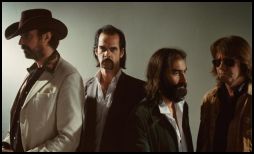 5 Marzo 2007 è la data scelta dalla Mute per l'esordio discografico dei Grinderman, la nuova band (vedi news) di Nick Cave con Warren Ellis, Martyn Casey e Jim Sclavunos. Il disco sarà pubblicato negli USA da Anti il 10 Aprile.
Questa la tracklist:
01 Get It On
02 No Pussy Blues
03 Electric Alice
04 Grinderman
05 Depth Charge Ethel
06 Go Tell the Woman
07 I Don't Need You (To Set Me Free)
08 Honey Bee (Lets Fly To Mars)
09 Man in the Moon
10 When My Love Comes Down
11 Love Bomb


Il 29 Gennaio, Mute pubblicherà un doppio DVD intitolato The Abattoir Blues Tour. Il primo disco documenta l'esibizione alla Brixton Academy di Londra effettuatta per il supporto del doppio "Abattoir Blues / The Lyre of Orpheus". Il secondo, invece, vede protagonista il concerto all'Hammersmith Apollo (sempre Londra), ma durante il supporto di Nocturama.
Il Doppio DVD verrà pubblicato anche in edizione limitata con doppio CD live.
Il 2007 per i fan di Cave inizia con i migliori auspici!!
[Dale P.]