---
Dredg
Al Lavoro Sul Nuovo Album
News del 17/02/2007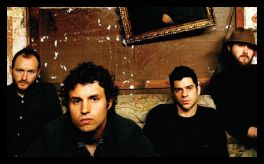 I californiani Dredg sono al lavoro sul successore di "Catch Without Arms". La band ha rivelato i titoli dei nuovi brani che molto probabilmente faranno parte del nuovo album, ancora senza titolo e data di pubblicazione.
Eccoli:
"ireland"
"hurricane felix"
"pieces of gold"
"wondrous miracle"
"fleeing to mexico"
"it's not worth it"
"long days and vague clues"
"2001"
"fucking smile pt. 2"

[Dale P.]
RECENSIONI
---
LIVE REPORTS