Melvins
Sopravvissuti a Due Terremoti
News del 13/03/2011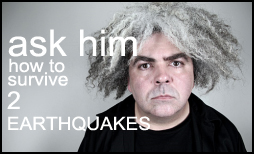 "What are the odds of us being in TWO major earthquakes on TWO continents in about TWO weeks? In the billions?" questo il commento di King Buzzo sul secondo disastroso terremoto vissuto dalla band durate il loro ultimo tour in compagnia degli High On Fire.
Per qualunque band al mondo il tour giapponese e' un simbolo di vero e proprio traguardo. Per di piu' se e' persino accompagnato da alcune date in Australia e Nuova Zelanda.
Melvins e High On Fire hanno avuto la sfortuna (mista alla fortuna di essere sopravvissuti, ovviamente) di essere sia a Christchurch durante il terribile terremoto di magnitudo 6.3 sia a Tokio nel disastroso terremoto di 8.9 gradi Richter.
Il prossimo concerto dei Melvins sara' a Citta' Del Messico. Poveri messicani...
[Dale P.]