Ultime recensioni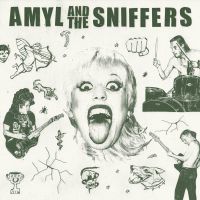 Voto:




Produzione:



OriginalitÓ:



Tecnica:



Etichetta:
Rough Trade
Anno:
2019
Produzione:
David Kuratsu
Genere:
punk
/
rock
/
garage
Scheda autore:
Amyl And The Sniffers
---
Anticipato da una bella sfilza di singoli in 7" e relativa raccolta antologica il debutto sulla lunga distanza dei Amyl And The Sniffers non delude. Gli australiani si presentano armati di mullet, facce da white trash e soprattutto con in prima fila la bella Amyl che, oltre ad essere una bomba sexy, Ŕ anche una carismatica trascinatrice di folle. Essendo australiani doveroso citare come fonte ispiratrice il sound scorretto dei Cosmic Psychos ma la band ha una sua personalitÓ a base di glam rock (vagamente Runaways), garage, surf, rock and roll e stilettate hardcore. Forse i singoli avevano un appeal melodico pi¨ a fuoco ma ci˛ non toglie che di una band come Amyl And the Sniffers ne avevamo assolutamente bisogno.
Canzoni significative: Cup Of Destiny, GFY, Control, Some Mutts.
Questa recensione Ú stata letta 95 volte!


---
tAXI dRIVER consiglia
---