Ultime recensioni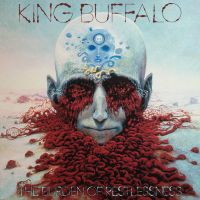 Autore:
King Buffalo
Titolo:
The Burden Of Restlessness
Anno:
2021
Produzione:
Sean McVay
Genere:
metal
/
alternative
/
stoner
Voto:


Produzione:



OriginalitÓ:


Tecnica:



---
Ascolta The Burden Of Restlessness
---
I newyorkesi King Buffalo sono tra i beniamini del pubblico stoner, grazie alla visibilitÓ ottenuta nel 2018 dall'album "Longing To Be Mountain", pubblicato da Stickman Records. Quel disco fu l'unico lavoro non autoprodotto e spalanc˛ al gruppo le porte della scena neo psichedelica. "The Burden Of Restlessness" mostra per˛ un cambiamento di tono a livello compositivo strizzando l'occhio al metal alternativo progressivo e abbandonando in parte le sonoritÓ precedenti. Certo lo stoner c'Ŕ sempre ma Ŕ virato in composizioni pi¨ strutturate e pretenziose sebbene non proprio a fuoco. Allo scoccare dell'iniziale "Burning" sentiamo echi degli Elder ma pian piano che il disco prende corpo sembra di ascoltare l'ennesimo clone mal riuscito dei Tool. E' un peccato perchŔ ovviamente il talento c'Ŕ ma Ŕ soffocato da una sensazione di vorrei ma non posso non proprio brillante, giÓ in parte espressa nel precedente "Dead Star". Se con "Longing To Be The Mountain" sembravamo di aver a che fare con un nuovo asso da calare ai fan di Motorpsycho e All Them Witches con "The Burden Of Restlessness" si iscrivono ad un campionato che secondo me non li rappresenta per niente.
Canzoni significative: Burning.

Questa recensione Ú stata letta 356 volte!
Voto utenti:


Altre Recensioni
---
tAXI dRIVER consiglia