Ultime recensioni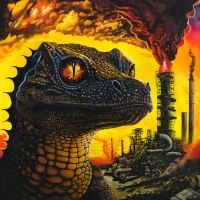 Autore:
King Gizzard & The Lizard Wizard
Titolo:
PetroDragonic Apocalypse
Anno:
2023
Produzione:
Nico Wilson
Genere:
metal
/
alternative
/
psych
Voto:




Produzione:




OriginalitÓ:




Tecnica:





---
Ascolta PetroDragonic Apocalypse
---
E' francamente difficile recensire i dischi dei King Gizzard & The Lizard Wizard ogni volta che escono: il tempo di ascoltarne uno dopo qualche settimane Ŕ giÓ pronto un altro. Quella di far uscire album dopo album Ŕ la loro caratteristica principale e c'Ŕ da dire che a parte poche eccezioni i dischi sono sempre interessanti. Per˛ dato che siamo in un sito che si occupa principalmente di "metal alternativo" e le sue numerose variazioni Ŕ naturale parlare di questo "petrodragonic apocalypse; or, dawn of eternal night: an annihilation of planet earth and the beginning of merciless damnation". PerchŔ? PerchŔ Ŕ uno splendido disco di metal mutante. In sintesi nei sette lunghi pezzi (durata media 7 minuti) la band passa da riff heavy sludge a psichedelia sognante, attacchi thrash metal e assolazzi impazziti come se i nostri avessero trovato una strada nuova tra quelle tracciate da Mastodon, High On Fire, Baroness, Kylesa che quasi va a toccare quella dei Mars Volta. Il risultato Ŕ meraviglioso sia a livello esecutivo che quello prettamente godereccio: la band mostra di sapere manovrare la materia come neanche i maestri del genere ormai riescono pi¨ a fare. Dopo lo splendido "Infest The Rest" King Gizzard dimostrano come per loro la parte "metal" non Ŕ solo un divertissement tra un disco psichedelico e l'altro ma una parte importante della loro anima.
Canzoni significative: Converge, Dragon.
Questa recensione Ú stata letta 233 volte!
Voto utenti:


Altre Recensioni
---
Live Reports
---
tAXI dRIVER consiglia