We Lost The Skyline - Porcupine Tree (Transmission)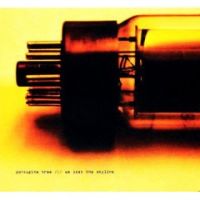 Dodici mesi alquanto intensi gli ultimi trascorsi dai Porcupine Tree. Dapprima la pubblicazione di un nuovo e convincente full-length, "Fear Of A Blank Planet", successivamente un gioiellino come l'Ep "Nil Recurring" e adesso questo live acustico intitolato "We Lost The Skyline" (titolo preso dal primo verso di "The Sky Moves Sideway", brano che apre la scaletta). Performance a quattro mani tra Steve Wilson e John Wesley registrata durante uno show in un music-store della Florida, in questa sede alcuni brani del repertorio della band vengono riproposti con semplici arrangiamenti a due chitarre, senza nessun supporto ritmico. Alcuni momenti si prestano perfettamente a questa dimensione, decisamente pių intima, vedi la sempre bellissima "Waiting" o la sentimentale "Trains", posta a fine tracklist. Riuscite anche le nuove vesti di "The Sky Moves Sideways", gravida di accordi dilatati ed ariosi, della sempre fascinosa "Stars Die" e la parte finale riarrangiata di "Normal", pezzo forte del recente "Nil Recurring". "We Lost The Skyline" risulta alla resa dei conti un lavoro meno sorprendente di quanto si potesse desumere prima dell'ascolto - a principio ci saremmo attesi un qualcosa di pių strutturato e forse pių atmosferico - ma anche in questa forma, pių nuda del consueto, i Porcupine Tree continuano a mostrare la classe che da tempo oramai conosciamo.
Canzoni significative: Waiting; Trains; The Sky Moves Sideways; Stars Die.
Condividi



Questa recensione é stata letta 3709 volte!


Altre Recensioni
---
NEWS
---
tAXI dRIVER consiglia
---
---