Ultime recensioni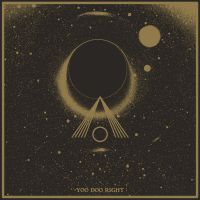 Autore:
Yoo Doo Right
Titolo:
Don't Think You Can Escape Your Purpose
Anno:
2021
Produzione:
Yoo Doo Right
Genere:
rock
/
post-rock
/
kraut
Voto:




Produzione:




OriginalitÓ:




Tecnica:




---
Ascolta Don't Think You Can Escape Your Purpose
---
Non sono un grande divoratore di post-rock. Non perchŔ non ami il genere, anzi, ma perchŔ spesso si lascia andare nel classico canovaccio dell'arpeggino, aggiunta di strati, esplosione e di nuovo arpeggino che se non ti chiami Mogwai Ŕ difficile che riesca a sorprendere. Mi hanno invece sorpreso i canadesi Yoo Doo Right, che come molti loro connazionali sono pi¨ sbilenchi della media. Intanto la formazione minimale in trio aiuta la band a non perdersi nei mille postriboli del post rock (cit) e andare diretto al sodo. In pi¨ i nostri inseriscono due ingredienti fondamentali: il post-metal e il kraut rock. Ok, non Ŕ che siano andati tanto lontani (se avessero messo il reggae forse sarebbe stato pi¨ particolare) ma quello che gli riesce bene Ŕ la totale naturalezza con cui vengono dosati i due generi, spostando di tanto in tanto l'asticella su un genere pi¨ che su un altro quando Ŕ il momento giusto. Questo dosaggio consente ai Yoo Doo Right di non cadere nei clichŔ di cui sopra e di proporre qualcosa di pi¨ variegato e potente. In pi¨ il classico motorik (il tempo 4/4 tipico della Kosmische Musik) dona un brio che manca a dischi di questo tipo.
Canzoni significative: Presto Presto Bella's Dream, The Moral Compass of a Self-Driving Car.

Questa recensione Ú stata letta 261 volte!


---
tAXI dRIVER consiglia