Ultime recensioni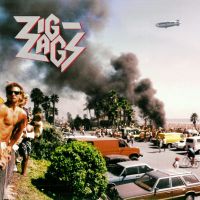 Autore:
Zig Zags
Titolo:
They'll Never Take Us Alive
Etichetta:
Riding Easy
Anno:
2019
Produzione:
Bill Lane
Genere:
metal
/
thrash
/
punk
Voto:



Produzione:



OriginalitÓ:

Tecnica:



---
"Punk Fucking Metal" Ŕ la prima canzone del terzo disco dei losangelini Zig Zags ed Ŕ un manifesto programmatico. Punk e metal vanno a braccetto in "They'll Never Take Us Alive" esattamente come avveniva nel seminale album Kill'em All dei Metallica da cui i Zig Zags prendono pi¨ che un'ispirazione. Il terzetto Ŕ piantato nel rivivere i riff e l'attitudine dei primissimi Metallica con una spruzzata di Slayer (alla Show No Mercy), Venom, Black Sabbath, Exodus. Il tutto suonato in modo cialtronesco e guascone ma con straordinaria competenza. Nella seconda parte del disco appaiono persino momenti post-punk come in "Nothing To Do" (con evidenti richiami ai Wipers) in uno straniante crossover di generi. "They'll Never Take Us Alive" Ŕ una sorta di compilation del meglio dell'underground del 1983. Difficile stabilire se possa valere la pena spendere dei soldi per una divertente tribute band ma sicuramente qualche minuto di allegro headbanging in streaming male non vi farÓ.
Canzoni significative: Punk Fucking Metal, The Shout, Nothing To Do.
Questa recensione Ú stata letta 295 volte!
Voto utenti:


---
tAXI dRIVER consiglia