Ultime recensioni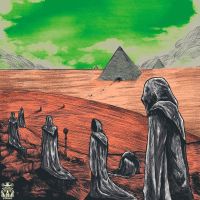 Autore:
Black Sky Giant
Titolo:
End Of Days Pilgrimage
Anno:
2022
Produzione:
Black Sky Giant
Genere:
metal
/
stoner
/
psych
Voto:



Produzione:



Originalità:



Tecnica:



---
Ascolta End Of Days Pilgrimage
---
Il misterioso progetto argentino dopo essere partito da sonorità desertiche alla Kyuss si diverte a proporre un disco doom stoner metal alla Sleep. Già la copertina fa intuire che siamo dalle parti di Dopesmoker ma facendo partire il disco i dubbi si dissolveranno come l'erba che avete tra le mani. "Goblin Caravan", "Behold The Sumerian", "Cult Of The Wurm" sono titoli che rimandano proprio alla band di Pike e Cisneros e si può tranquillamente dire che, pur con mezzi poverissimi, Black Sky Giant non ci va troppo lontano. Per molti suonerà come una cover band per chi è devoto al suono "Iommic" non potrà che apprezzarlo e trovarne godimento.
Canzoni significative: Endo Fo Days Pilgrimage, Goblin Caravan.

Questa recensione é stata letta 244 volte!


Altre Recensioni
---
tAXI dRIVER consiglia