Ultime recensioni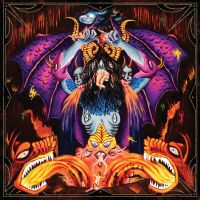 Autore:
Devil Master
Titolo:
Satan Spits on Children of Light
Etichetta:
Relapse
Anno:
2019
Produzione:
Arthur Rizk
Genere:
metal
/
black metal
/
goth
Voto:




Produzione:



OriginalitÓ:




Tecnica:



---
Ascolta Satan Spits on Children of Light
---
Conciati come i Christian Death delle origini i Devil Master propongono un attacco sonoro che in realtÓ ricorda band ancora pi¨ brutte come Hellhammer e Venom. Ma Ŕ proprio quel retro gusto gotico ben esposto da chitarre effettate alla Killing Joke che svariona il cervello del metallaro medio, giÓ mal disposto da una copertina con i coloro fluo. E, infatti, di questa band di Philadelphia non si Ŕ poi sentito parlare molto ed Ŕ un peccato perchŔ "Satan Spits On Children Of Light" Ŕ una piccola gemma di metal underground che potrebbe far godere sia i goticoni che i black metallari. Ma in realtÓ forse nessuno dei due. Un plauso al coraggio della proposta ma anche un plauso alla resa sonora: originale, sbilenca e degna di molteplici ascolti.
Canzoni significative: Christ's Last Hiss, Nightmares In the Human Collapse.
Questa recensione Ú stata letta 179 volte!
Voto utenti:


Altre Recensioni
---
tAXI dRIVER consiglia