Follow The Leader - Korn (Immortal)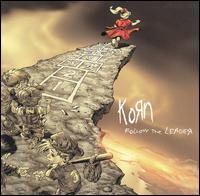 Il terzo album dei Korn inizia in sordina. 12 tracce di silenzio servono per dare la botta all'ascoltatore all'arrivo di It's On!. Dopo due dischi milionari i Korn decidono che possono osare ancora di pi¨. Irrobustiscono il suono, potenziano la ritmica e Jonathan prepara ritornelli melodicissimi. E' senza dubbio il disco che ha contribuito a plasmare il moderno nu-metal fatto di ritmi danzabili (seppur a spallate!) e ritornelli cantabili, break e ripartenze pestone. A lanciare l'album ci sono "Freak On A Leash" e "Got The The Life" perfette con dei video adatti all'occasione. Ma il disco si ricorda anche per la disperata "Dead Bodies Everywhere" e il duello con Fred Durst in "All In The Family". Per il resto il disco non passerÓ certo alla storia come i primi due! Se cercate qualcosa di memorabile orientatevi a quelli!
Canzoni significative: Freak On A Leash, All In The Family.

Questa recensione Ú stata letta 5426 volte!
Voto utenti:


Altre Recensioni
---
NEWS
---
tAXI dRIVER consiglia
---
---