Ultime recensioni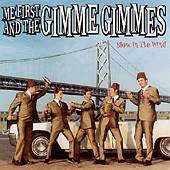 Autore:
Me First & The Gimme Gimmes
Titolo:
Blow In The Wind
Etichetta:
Fat Wreck Chords
Anno:
2001
Produzione:
Genere:
punk
/
hardcore melodico
/
Voto:




---
Probabilmente non conoscerete questo gruppo. E' formato da membri di Nofx, Lag Wagon e No Use For A Name. Che genere faranno mai?? Punk hardcore melodico ovviamente. E le canzoni?? Cover di classici della musica. Fra le migliori presenti negli altri dischi vi segnalo Over The Rainbow, Don't Cry For Me Argentina, Summertime e vari classici di Broadway. In questo disco la parte del padrone la fanno Blowin' In The Wind di Bob Dylan e All My Lovin' dei Beatles. Per il resto ci sono canzoni di Cat Stevens e dei Beach Boys e di altri che francamente non conosco. Ma non Ŕ importante. Le cover non hanno quasi nulla delle originali. Provate a pensare cosa abbia di hardcore melodico uno come Bob Dylan!!! BhŔ avrete capito che il prodotto Ŕ l'ideale per una festa, per divertirsi e per andare veloci in macchina. Ma se vi prendete troppo sul serio statene alla larga!! Questo disco non potrÓ che farvi schifo.
Canzoni significative: Blowin' In The Wind, All My Lovin'.

Questa recensione Ú stata letta 3745 volte!
Voto utenti:


---
Live Reports
---
tAXI dRIVER consiglia