Glass Slipper EP - Burning Brides (V2)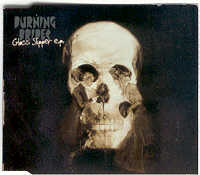 I Burning Brides sono la promessa di questo 2003. Si pongono nella stessa scia dei QOTSA. Stesso eclettismo, stesso muoversi nei meandri del rock con estrema disinvoltura. Ricordano tutti e nessuno. L'iniziale Glass Slipper, un mix tra Hellacopters e Gluecifer, può ricordare le esplosioni hardcore delle regine del deserto, ma si mantiene decisamente più controllata. La seconda Blood On The Highway è puro sixties sound. Sembra di sentire i Soundtrack Of Our Lives! Psichedelia morbida e leggera. Overhead Metal Erection ci porta nelle terre desolate del nord-ovest. Piene di creature strane dai nomi tipo Melvins, Mudhoney e Nirvana. Ovviamente i primissimi. Ovviamente sabbathiani. Eclettismo quindi ma anche una discreta genialità. Prendere il suono di gruppi derivativi (i già citati Hellacopters, Gluecifer, Soundtrack Of Our Lives, QOTSA, Melvins, Nirvana e Mudhoney) e renderlo originale non è impresa da poco. Questi tre pezzi ci consegnano una band di assoluta grandezza. Il futuro mi darà ragione?
Canzoni significative: tutte
Questa recensione é stata letta 4796 volte!


---
tAXI dRIVER consiglia
---
---