Ultime recensioni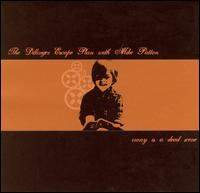 Voto:




Etichetta:
Epitaph
Anno:
2002
Produzione:
Genere:
punk
/
post-hardcore
/
mathcore
Scheda autore:
Dillinger Escape Plan
---
I Dillinger Escape Plan sono ancora alla ricerca di un cantante ma, nel dubbio, hanno inciso un EP di quattro canzoni con sua maestÓ Mike Patton. Il risultato Ŕ assolutamente sconcertante anche se un pochino al di sotto delle aspettative. Chi ha ascoltato il precedente Calculating Infinity (uno dei dischi pi¨ belli usciti in questi anni) sa cosa aspettarsi dal gruppo. L'approccio di Mike Patton rende il tutto un po' pi¨ orecchiabile e un pochino meno schizzato. Una specie di via di incontro tra il gruppo e l'ex leader dei Faith No More. Sarebbe stato bello vedere un opera pi¨ completa mentre queste quattro canzoni (tra cui un'incredibile cover di Aphex Twin: "Come To Daddy") lasciano un po' di amaro in bocca. ChissÓ come mai dopo averle ascoltate la mia scelta di ascolto successiva sono i Fantomas o proprio Calculating Infinity.
Canzoni significative: When Good Dogs Do Bad, Come To Daddy.

Questa recensione Ú stata letta 5653 volte!
Voto utenti:


Altre Recensioni
---
Live Reports
---
NEWS
---
tAXI dRIVER consiglia
---