Ultime recensioni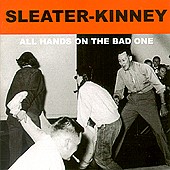 Autore:
Sleater Kinney
Titolo:
All Hands On The Bad One
Anno:
2000
Produzione:
Genere:
indie
/
rock
/
Voto:




---
Premessa: per quanto riguarda le Sleater Kinney e tutto ci˛ che fa Corin Tucker io sono assolutamente di parte.Dig Me Out Ŕ uno dei miei dischi preferiti di sempre e il side project di Corin (Cadallaca) l'ho trovato assolutamente geniale.Ecco che dopo un disco non troppo entusiasmante come Hot Rock le Kinney ritornano a sonoritÓ pi¨ grezze e punk e ad un disco che per poco non si avvicina alla bellezza di Dig Me Out. Le canzoni si fanno pi¨ corte e il ritmo pi¨ sostenuto ma la struttura Ŕ sostanzialmente pop. Quel pop che fa impazzire le college radio americane. Quel pop che farebbero impazzire chiunque se si avesse il coraggio di trasmetterlo. Eppure il video di "You're No Rock And Roll Fun" ogni tanto si Ŕ visto. Notevoli le "armonie" vocali fra le due cantanti chitarriste. Nel caso di "Leave You Behind" sarabbero capaci di far piangere i sassi. Probabilmente Ŕ questa la caratteristica che rende grandi le Sleater Kinney: le armonie vocali su un buon tessuto chitarristico (dobbiamo anche ricordare che non usano il basso?). Ormai le Sleater Kinney non possono pi¨ essere pi¨ associate a nessun gruppo (lo spettro Bikini Kill non si vede pi¨ e certe influenze del passato - Blondie, Pretenders- ci fanno solo sorridere) e, anzi, sono viste come faro per le nuove generazioni di Riot Grrrls. Che poi tanto riot non sono pi¨. Dopo Dig Me Out, All Hands On The Bad One Ŕ il loro disco pi¨ riuscito.
Canzoni significative: tutte.
Questa recensione Ú stata letta 2761 volte!
Voto utenti:


Altre Recensioni
---
NEWS
---
tAXI dRIVER consiglia